Work commencing December 2023
Building contracts have just been exchanged for the building of the next exciting stage in the development of the school campus. The commencement of building works for the Music Expansion Project follows the completion of the Junior School Expansion Project towards the end of 2023. Once this building is complete, it will realise a total campus development of just over $25million over the past four years.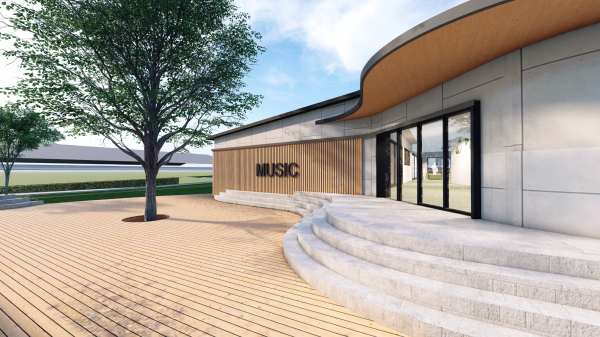 Building works are expected to commence immediately after the term has finished in December, with an expected completion date of July 2024. This project involves demolishing the current music demountable and replacing it with two new music classrooms and six peripatetic music rooms, including three additional spaces. The current permanent music classroom will be renovated as part of the works, as will the toilets that open onto the Chapel Courtyard.
The expanded facilities will be joined to the current music classroom with an internal collaborative space and a staff room. Access to the peripatetic rooms will be via an internal corridor, and the current music store room will also be via an internal doorway.
The Project also includes two new entrances, one from the Chapel Courtyard and the other from a new set of stairs and a landscaped Music Courtyard in the area between the new build and the Moroney Centre. The School is delighted to partner again with Mayoh Architects and Vernon Constructions for this project.